Here's an episode of me trying to watch TV....
If you say the words 'beer can' in a British accent, it sounds like you're saying 'bacon' in a Jamaican accent.
Anyone want to buy a dollar for $0.25?
This weekend,
Roger
and I hit the
NJ Rock Gym
to test our mettle against their obstacles. I can't say that the rock wall won, but we'll just call it a draw since it wasn't fighting back.
That's not an actual picture of us since we weren't smart enough to take a camera. I stole it from their website to show you how cool the gym is. Overall, I don't think I'm suffering too badly...I can still type after all.
I think rock climbing is a cool sport so I'm excited to try it out more. It's certainly encouraging me to lose any extra weight. That's pretty much all you think about as you feel your grip slipping. That and the fact that Roger really had to struggle to put me back on the ground. I think I have a diaper rash from his initial education of how to lower a heavy person. I would plummet one foot then come to a full stop, bouncing ever slightly up then plummeting another full foot to yet another stop. I don't even want to see what the bruises look like.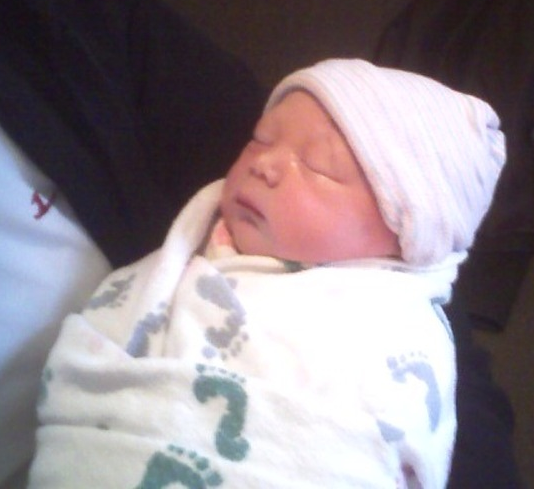 Cara Rose Kiser
Born 8:25AM on October 22, 2009
weighing in at 7 lbs 1.6 oz

Who knew that
Rus
could be involved in creating something so cute? Twice!! I'd giver her an Apgar of 10! Congratulations to the growing Kiser Klan, I hope Julie recovers well.
Rus, post some pictures of Lena so she doesn't get jealous!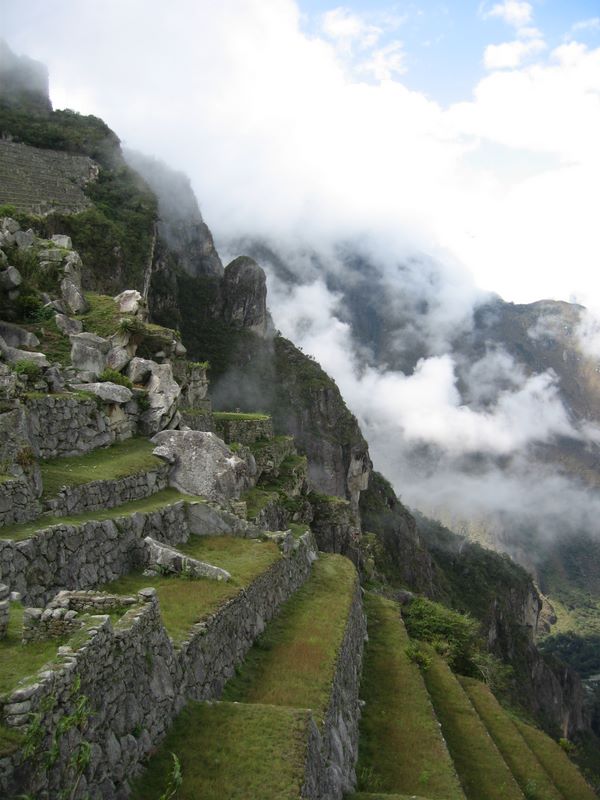 Maybe someone else needed one, too.
My lovely wife treated me to a surprise movie called It Might Get Loud.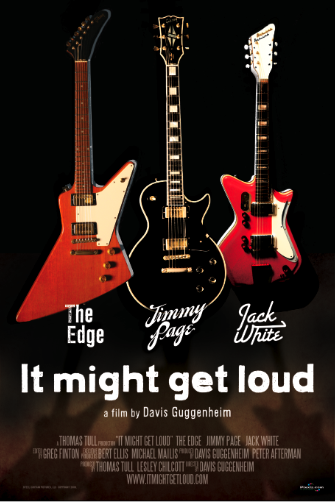 For those of you who don't know, I've become a teensy bit obsessed with the guitar. It pains me to say it, cause I still really suck, but I have practiced about twice daily every day since February. Özlem can attest that she heard scales every day :) mixed in with occasional burst of chord progressions so everyone else doesn't go crazy.
I could just happily listen to myself doing scales all day.
Tülay graciously found this movie on our movie night and we went out to the
the Sunshine
to see it. The movie tracks three guitarists Jack White, The Edge, and Jimmy Page to a meeting where they discuss the guitar. The only guitarist I knew was Jimmy Page, but I still couldn't recognize him on the screen until they said who he was. Anyway, the whole movie, I was transfixed! I'm such a music geek now. I wish they would have gotten into some technical details, but they movie was targetted at a broad audience so I had to be satisfied with some allusions to how The Edge made the E chord more pure by "taking away notes". (I tried it at home by just playing the root and fifths and it sounds pretty much like his music)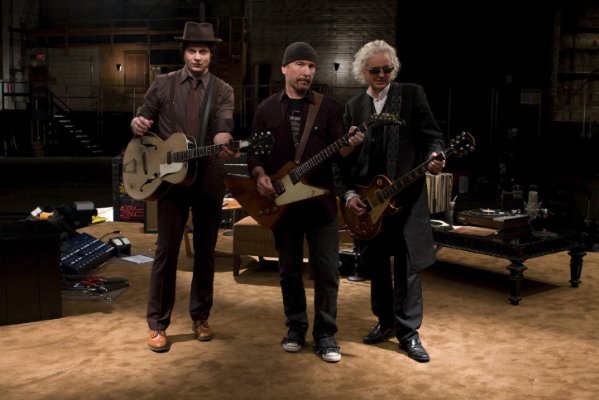 Tülay and I compared notes after the movie and our biggest surprise was a huge increase in respect for Jack White of the White Stripes. I knew and loved their music, but that guy is cool! He plays on trashed out guitars just to prove that music can be made on anything, it's the artist that matters.
I'm no artist, I just rake my fingers clumsily across the fretboard for my own entertainment but I hope to get better so that more than just Drake will dance to the music. He's my best audience. But then again, he dances when I beat an empty plastic bottle, too. :-/
As you can see, we didn't cut a single hair on his head until he turned 1 (or 12 months as many parents like to say).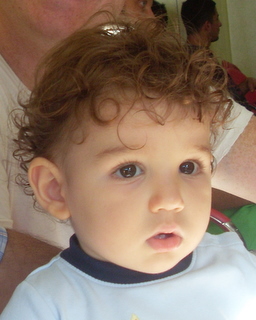 So while we were visiting Turkey for his birthday we went to have it chopped off. The poor little guy was also suffering from the heat so we thought it would help.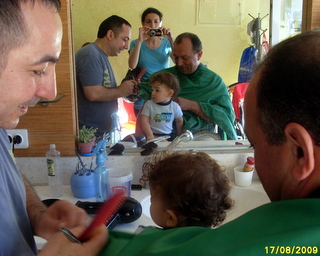 Uncle İlker was happy to hold the little guy while Barış distracted him from what was really happening.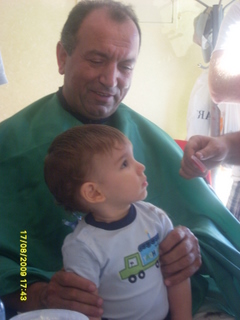 And revealing the New Drake!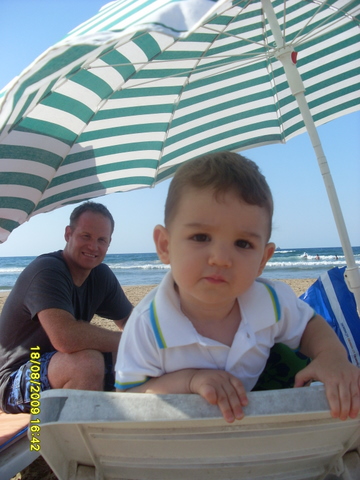 Why is he giving us such attitude? Maybe because that chair is the only place he would stand. He hated walking on the sand and just tolerated the water as long as we held him. But at least he has a sharp haircut.

I know, I haven't posted in a while...and now here is a post without even a picture! (I promise to put up a picture, Mom, perhaps even a video.)

I have quite a few things to write about, but not enough time right now. I fixed comments again on the site here. Since I host this machine out of my home, I spent a lot of time making sure it was secure. Part of that security is that I need to individually allow each program to run. It works, I guess. According to the logs, I haven't really even had any serious hack attempts.

P.S. If anyone does actually hack this box, please send me an email with the hole.

P.P.S. No Rogers are allowed to hack this box. Your kung-fu is too weak and you may break a nail.

Tülay calls him the "billy goat" now. For some reason he climbs
everything
. I snapped this shot yesterday, he wasn't at his maximum height that he can attain on the chair, but he was doing pretty well. He also climbs up the stroller that you can see behind him and he has mastered the ability to get on the couch.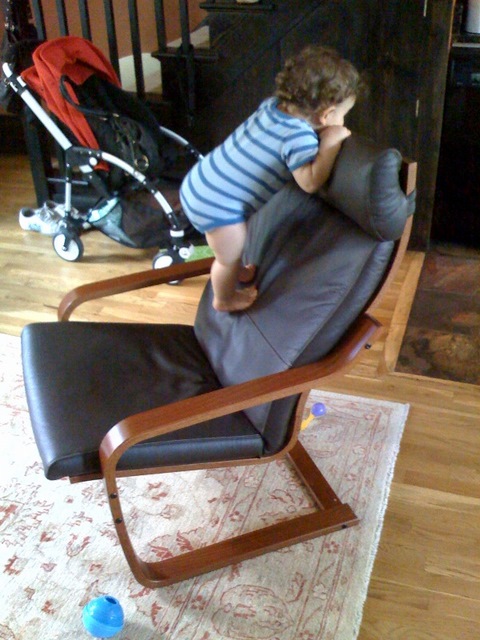 The couch used to be our safe place for our remote control. Now it can usually be found damp from slobber in some hard to reach nook...next to the phone. No, he's not walking yet. Somehow he does this Rockette kick with his left leg and anything that his heel lands on top of he can climb.